Cave Creek is nestled in the Chirichua Mountains in the South East corner of Arizona. It has received international recognition as a birding paradise. Here I was to encounter a few regional specialties.
Chirichua Mountains. Last stronghold of Geronimo and the Apache.
Juniper Titmouse
Lazuli Bunting.
Barn Owl in flight.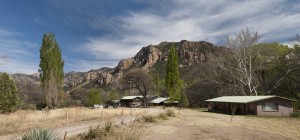 Cave Creek Research Station
No sooner had we arrived at the Research Station than a Zone-tailed Hawk glided overhead.