Sunday, Oct 09. The weather seems to be making a change for the better. With lots of snow still on the high ground making footing unsafe, we decide to tour some of the small villages and hamlets up the valley past Chamonix , towards the Col de Montet. The recent snows have given a frosted sugar coating to the mountain tops and lower pines. Formerly gritty, grey glaciers now sport a pristine winter dress in a valley that has been transformed into a winter wonderland.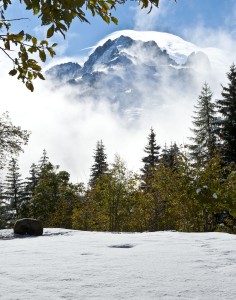 Although it's clear skies above, the valley floor is continually swept by drifting banks of mist and fog.
Curt seeks directions from a local cross-country skier near Tré-le-Champ.
A birch tree bows to the forces of nature…. but we don't!!!
Winter wonderland!! Hard to believe that we were in the warm, autumnal  grasp of Beaujolais but yesterday!
Local church bearing up under the burden of an early snowfall.
The small hamlet of Le Planet.
Bull enjoying early arrival of winter
Montroc village.
Village of  Le Tour.
Summer flowers freshly robed in snow!
Almost every village has their avalanche memorial. This one marks the death of 12 in the 1999 disaster at Peclerey.
Mural painted on the front of a house in the village of Le Tour. Appropriately it depicts climbers scaling an "aiguille" or needle.