Over the years, the villages that we have been visiting have produced many of the famous guides and climbers.
First, a drink to the living!!!
And then a  toast to the dead!!!
Each cemetery has memorials to those that have fallen pursuing both a livelihood and a passion. Here's a memorial in the cemetery at Argentière.
Close up of memorial.
Modern roll of honour.
Individual grave of tourist climber.
Plaque on the front of a house in the hamlet of Le Tour. (Michel Croz is the first name on the memorial back in the Argentière cemetery.)
Daniel Burnier, Camarade de Corde!!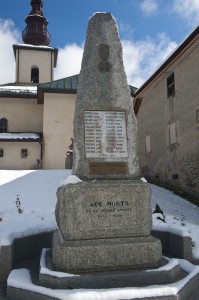 And if the mountains didn't get them, the Great War did!!! Note the sad overlap of family names between the Guide and War memorials!!