Oct 13.  Weather looks good and clear. We decide on one last hike around the village of Levancher up past Chamonix toward the head of the valley.
First, it's a quick stop in Chamonix at the Office du Tourisme to buy some replacement maps. Then on up the valley to the village of Levancher.
The climb starts with a view back towards Chamonix.
Halfway up we are surprised by a snack shop…..closed of course for the season.
La Buvette. Hiking on the north coast of Greenland was never like this!! No doubt a popular spot in summer but hate to think what the price of refreshments must be!!!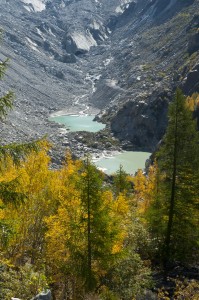 Not far from La Buvette is a spectacular view into two lakes below the Mer de Glace.
Magic mushroom?? Look, but don't touch or eat!!!
Backward glance to the massif on the other side of the valley.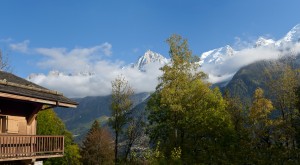 Final return to our base in Les Houches. Nothing to do but a quick supper and a good clean of the premises before our departure in the morning for Geneva.
The last 10 days have been a blast!!. Many years ago, while driving through the Burgundy plain with my mom, I caught a brief glimpse of the snow clad Mont Blanc. Never dreamed I would get the chance to come back and explore it in such detail!!.
Again, many thanks to Chris and Cathy back in London for the generous use of their chalet which made it all possible.