…or chasing Euro Trash with trashed euros!!
Having successfully mastered the intricacies of shopping for basic food supplies in the local Super U in Les Houches, it was soon time to venture further afield and sample the dining in Chamonix proper.
The first place we dropped into was La Calèche in the heart of town. The streets were almost deserted but the restaurant was packed which must testify to the quality of the food.
We soon discovered that Casa Valerio was about the best place in town for pizza. Not bad for a plate of spaghetti either. All in all, we ate there on three occasions. Lively ambiance and good food would make it a difficult reservation in season. On our last visit, we get stopped on the drive home by "les gendarmes" for a  mandatory breathalyser test. Fortunately I had no more than one glass of wine and passed with flying colours!!! (Seriously though, what would be the limit???  Four or five bottles???)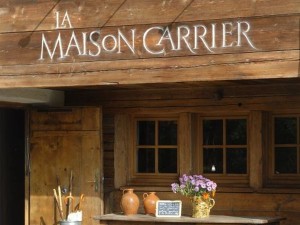 La Maison Carrier is a great spot of more traditional Savoyarde fare in a rustic and relaxed setting. Service was good and the staff very friendly and accommodating. Great place to go for splurge dining.
Cha'cha'cha is perhaps the best place for wine and spirits. Staff was very friendly but regrettably we didn't have time for any of their famous dégustations!
And if you're really bored with nothing to do after a good meal (or just a homesick Canadian), you can always take in a hockey game!!