"Remember, remember the fifth of November!
For twas gunpowder, treason and plot.
I see no reason why gunpowder, treason,
Should ever be forgot!!!"
Yesterday, the fifth of November, was Guy Fawkes day which is celebrated the length and breadth of Britain. It was also my birthday! It's always nice to see an entire nation throw a party in your honour!!
Who was Guy Fawkes?? Ask any London cabbie and he'll tell you. He was the only honest person ever to enter Parliament! It was his intention to blow it up in what became known as the Gunpowder Plot!!
However, this year my birthday brings no joy. In a year of sustained loss, the hits just keep on coming!! Out of Toronto came terrible news that a life long friend had suddenly passed away.
Peter Thompson off the coast of Chile.
Peter was my study buddy for 4 years at the University of Toronto where we studied engineering together. What a privilege it was to sit beside a man of that character!! Smarter and more clever than me, he was a great asset in the interminable labs and homework assignments. I don't know how I could ever have survived that institution without him!
After university when I first came to Ottawa, Pete and his good wife Mary were the only people I knew and they introduced me to the city. His telephone calls during my recent medical crisis provided encouragement and bucked me up. Just can't believe he's gone!!!
Apparently he passed away in his sleep after a day on his beloved bicycle in wine country.
Ave Atque Vale. Gone…..but never to be forgotten!!
I need to to be completely alone to process this dreadful news. The weather is perfect, bright sun and no wind. So I grab the camera and head towards the river to see what might be passing through. It's been a long while since I made any serious attempt at bird photography. Maybe there will be comfort in the solace of nature.
Turns out I'm in luck as we have some unusual birds migrating along the Ottawa river.  Above is a Horned Grebe in winter plumage.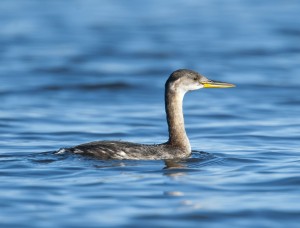 Immature Red-necked Grebe.
Female Long-tailed Duck.
Close up and personal!
Green-winged Teal, Andrew Haydon Park.
All in all it's been a good day. I hope that in some small way these images can be a fitting homage to my lost friend.
Great Dane!
The day ends on a bit of an odd note. A couple approach me and ask if I wouldn't mind taking a picture of their dog. I try and explain that my three feet of lens will not do justice but they insist. So I back up a hundred yards or so to get all the dog, which to make matters worse is the size of a small pony, in the frame. The light is fading fast so there is not much I can do about selecting an appropriate background. I have them tie the dog up to a tree and rip off a few shots.
As they pass me a business card for the e-mail address I instantly recognize the couple. Aurora Theme Park! "Weren't you guys on the popular TV series …….Dragons' Den!!" Yep, they sure were!!
As I recall they got quite a rough ride after pitching their theme park to the Dragons. It might have had something to do with the billion dollar ask!!
Big dog, big ideas, even bigger dreams. You gotta love the enthusiasm.
Hope they enjoy the pics!!