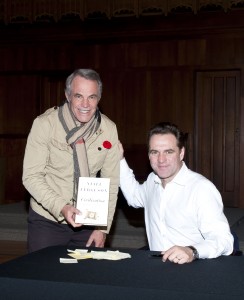 Erudite, controversial, and best selling author Niall Ferguson made an appearance at the Ottawa Writers Festival last night.
A riveting speaker, he kept a packed church hall entertained throughout the evening with insights and observations on the last five hundred years of world history and why the West rose to such prominence. In his latest book, "Civilization – the West and the Rest" he identifies six "killer apps" which enabled western supremacy.
These apps have now been downloaded by other regions and successfully adapted to local conditions giving rise to the greatest and swiftest increase in human prosperity that the world has ever seen.
Unfortunately for the West, through civilizational exhaustion, we have allowed deadly viruses to attack the system which made us the envy of the world. Without the resolve to quickly delete and reboot the fundamental applications, the West is doomed to a secondary status in the years to come.
Couldn't agree more!!!
Best wishes to Niall and his wife Ayan Hirsi Ali for the healthy birth of their first child.
(Many thanks to good friend Dan for snaffling up two front row seat tickets. Greatly appreciated!! Read Dan's excellent review of Niall's book here.)