LANCASTER BOMBER FLYPAST
Mastery of the four engine bomber which allowed for heavier bomb loads and greater range by America, Britain and Canada proved the undoing of the Third Reich which had no answer to their lethality. Originally built in Toronto and lovingly restored by the good folks at the Canadian Warplane Heritage museum in Hamilton, this aircraft is the only one still flying in North America.
TAXI AT THE GATINEAU AIRPORT
PERPETUAL CROWD FAVOURITE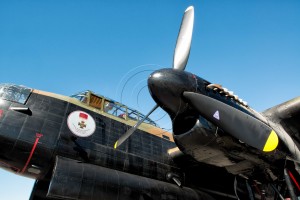 COCKPIT AND ENGINE CLOSE-UP
IVY MILL, FAILSWORTH, LANCHASHIRE
This old textile mill in which one of my ancestors laboured was converted to aircraft component manufacture during the war. Critical link in the production of the British Lancaster bomber. For a video clip of King George's visit to the facility in the run-up to the war check this out,
http://www.britishpathe.com/video/royal-tour-of-lancashire/query/ivy+mill+failsworth
LANCASTER CRASH SITE,  CFB ALERT, ELLESMERE ISLAND
Preserved in the extreme aridity of the high arctic, these are the remains of a Lanc that was flying a resupply run over Canada's most northern outpost in the 50's that I shot back in the 70's. A parachute drop went astray when the chute got swept back into the tail section putting the aircraft into an uncontrollable dive. All aircrew were killed.