I attended a debate last night hosted by the MacDonald-Laurier Institute at the Canadian War Museum between Professor Jack Granastein and journalist Jeff Simpson on the question as to whether or not the War of 1812 commemoration has been over hyped.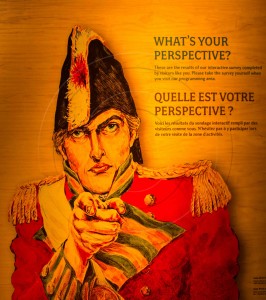 GENERAL BROCK WANTS YOU!!
JACK GRANASTEIN
Jack Granastein is arguably one of the best military historians in the country. Author of over 60 books, he was given the task of defending the appropriateness of the War of 1812 celebrations. By a show of hands before and after the debate, it was apparent that his stalwart defence had prevailed and he "won" the debate.
JEFF SIMPSON
Jeff Simpson has had a long career with the Globe & Mail newspaper and given its current editorial policy it should have come as no surprise that he would use this privileged platform for a partisan attack on the Conservative government. Apparently, they and they alone, have been over-hyping the event.
In his view, the monies spent should have been put toward celebrating what he considers Canadians are really interested in …….like "the anniversary of socialized medicine in Saskatchewan"! Are you kidding me??!! What a bloodless, dessicated husk of national narrative that would be!! Can we have no Bunker Hills, no Valley Forge or Battle of Trafalgar in our national history to rally round?? Guess not. All of a piece with a deliberate and concentrated attempt to defang Canada of its proud military traditions.
Apparently the view from our urban elites is that history can only be history in this country if it has been officially sanctioned by a left wing cabal of Pierre Trudeau/Tommy Douglas/and David Suzuki!!!
CENTENARY OF THE RAISING OF THE NIAGARA LIGHT DRAGOONS
Mr. Simpson and his ilk would no doubt find it surprising to learn how Canadians celebrated the 100th anniversary of the War of 1812. On June 28, 1912 a re-enactors group rode through the streets of Niagara-on-the-Lake commemorating the raising of the Niagara Light Dragoons. In attendance to witness the spectacle was the Lt. Governor of Ontario who also partook in the gala dinner in honour of the event.
He would also be surprised to learn that the official opening of the second Brock Monument at Queenston was attended by 15,000 apparently deluded Canadians back in the horse and buggy days of 1857. Guess that was over hyped too!! Stephen Harper has a lot to atone for!!
ROLL OF THE NIAGARA LIGHT DRAGOONS
My ancestor's name, William Wintermute (Wintermoot), can be seen in the lower right corner.