Experienced a bit of a Bohemian Waxwing fallout today at the Arboretum in Central Ottawa. The birds were feasting on Juniper berries.
Mr. GREEDY GUTS!!
CATCH!!
The Juniper berry is used in the production of  Gin and of course the Tonic was seeing the birds by the hundreds wheel and turn in incredibly tight formation. Left with the spirit stirred by the birds and the bones shaken by the high winds.
Check out my video here: http://youtu.be/nDWfT4NQs4U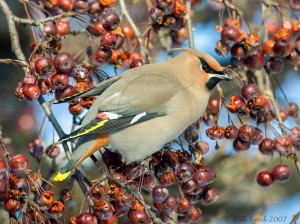 BOHEMIAN WAXWING WITH CRAB APPLES
A perpetual crowd pleaser from yesteryear. This image on stretched canvas now adorns the walls of several friends.