From a recent report in the National Post.
I spent a couple of winters in the Davie Shipyard as a civilian Combat Systems Engineer putting Athabaskan and her sister ship Algonquin together  down in dim, cold grimy spaces below decks prior to their commissioning. The following are some old legacy photos of the Athabaskan taken from yesteryear.
DAVIE SHIPYARD, LAUZON, QUEBEC
Most significant memory of the Davie Shipyard for me was the day the labour force went on an impromptu strike. The Principal Naval Overseerer  (PNO) came running on board the Athabaskan shouting and screaming for all Navy and contractor personnel to essentially abandon ship. We all hastily scrambled across the gangplank and climbed into the back of an empty dump truck. I could see that throughout the yard, cars were being overturned, fires were being lit, and the baseball bats were coming out.  A young corporal with a raised pistol stood up while the rest of us kept our heads down as we ploughed through the picket line to safety as rocks pinged off the sides of our protective dumptruck.  Quebec labour relations, you gotta love them!!
ATHABASKAN AND ALGONQUIN AT DAVIE DOCK
ATHABASKAN PRIOR TO COMMISSIONING
After "Basin Trials" we took the ships up and down the St. Lawrence to perfom the critical "Sea Trials" of all systems prior to acceptance by the navy.
SISTER SHIP  IROQUOIS PASSES UNDER TROIS RIVIERES BRIDGE
Iroquois undergoing sea trails on the St. Lawrence while still under the ownership of the yard. The above image is a dicey moment as we hope the naval architects have read their tide charts correctly as our mast has only a few feet to spare. Sea trials were mostly relaxed and easy going as can be seen from the informal dress of civilian contractor personnel on board.  I say mostly, because along the way sudden stressful incidents can pop out of nowhere.  I was responsible of the steering control system. During a high speed turn trial we lost complete control of the helm, nearly cutting a small wood transport in half. The badly shaken civilian captain laid me out in lavender with unrepeatable curses in front of 20 odd individuals on the bridge as I frantically tried to ascertain the problem. My electronic steering console seemed to be perfectly normal.  With curses still ringing in my ears,  I abandoned the Bridge in complete humiliation and ran the length of the ship and down three decks to the "Black Hole of Calcutta" which was the steering gear department. Covered in oil, it was truly black as a main swash plate had given way producing a complete hydraulic failure and spraying oil everywhere. I was "steering control" not "steering gear hydraulics." This was a plumbing problem, not a control problem. Call in the mechanicals!! (who were sunbathing on the flight deck!)
I neither expected nor received an apology for the misdirected abuse I suffered that day, the memory of which still leaves a bitter taste in my mouth.
 "If you can keep your head, while those around you are losing        theirs……and blaming it on you!!"
That phrase has come in handy more times than I care to remember throughout my career. I seem to grow fonder of Kipling with each passing day.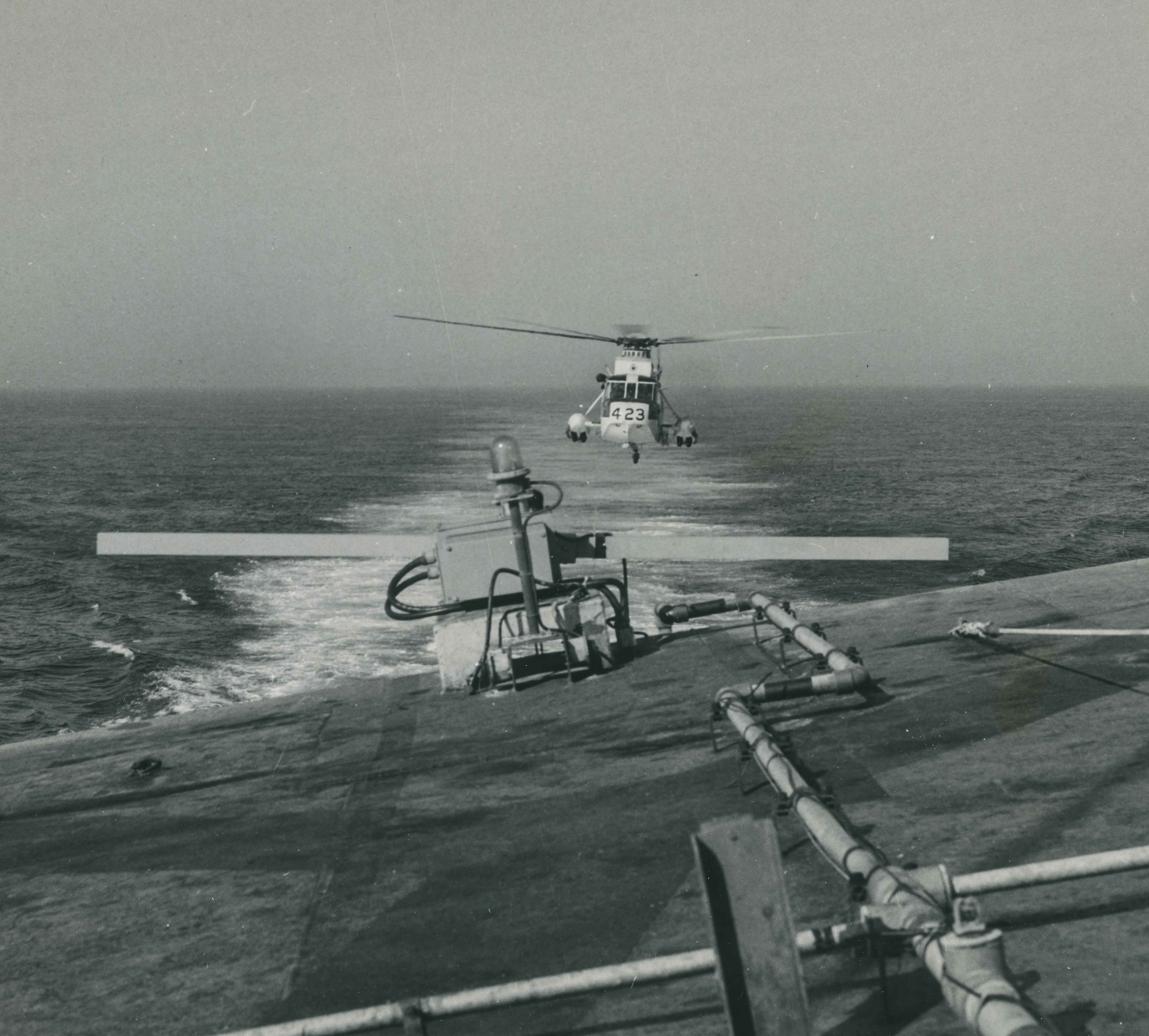 HELICOPTER APPROACH TO A STABILIZED HORIZON BAR,  HMCS ATHABASKAN
After commissioning, I was responsible for prototype testing of an illuminated bar of light stabilized to follow the horizon despite the rolling of the ship. During night operations, this gave the helicopter pilot an "out of cockpit" horizontal  flight reference  during the critical landing procedure on the cramped confines of the deck. The above image was taken during testing of our first production model at some risk.  Without the aid of harness or a safety line which of course would be mandatory today, I nearly slid off the hangar roof on several occasions during heavy rolling manoeuvres. Next stop Davy Jones' Locker!!
As a civilian on board a naval ship, even though I was accorded officer status and had wardroom privileges, you still had to fight for respect. Since my systems were neither "guns" nor "engines" I was always seated at the far end of the wardroom table for evening meals, far from the Captain and his Executive Officer. Helicopter flying aids, main ship steering gear control and gyro compasses (in the age before GPS!), all essential to the successful operation of an anti-submarine destroyer, just didn't seem to cut it with the senior officer staff and I was often left to my own devices for long periods at sea. Lots of time to read up on Kipling.
USS JARRETT HELICOPTER HANGAR
The Horizon Bar  flying aid proved such a stunning success that it is still in use by many navies around the world today. Above is a picture I snapped of one of my horizon bars below the Gatling gun on top of the USS Jarrett's hangar during her port visit to Perth, Australia in 1991.
"He who laughs last, laughs best!!"
Farewell to an old friend, the Athabaskan. Thanks for the memories.