"Sing me a song of a lass that is gone,
Say, could that lass be I ?
Merry of soul, she sailed on a day 
Over the sea to Skye."
THE OUTLANDER
Rose Queen of the Snows, Queen Mary's Rose Garden, Regent's Park, London
"A rose by any other name would smell as sweet"  William Shakespeare
     The Garden is home to one of the largest rose  collections in the world with over a hundred varieties.  Even had it been the full bloom of summer instead of a bitterly cold Christmas morning, Evelyn would have out shone them all!! 
"Merry Christmas Ev!!"
(Thanks once again for allowing me the privilege of joining you, your Mom and your aunt for  the midnight Christmas eve service the night before at Florence Nightingale's old church on South Audley. Unforgettable!) 
Dog Day Afternoon, Montmartre, Paris
"A woman for all seasons!!"
     Paris Airshow, 5 star hotel,  Michelin restaurants and a classy lady clinging tight to my arm!  Almost too much to take in! Wasn't like this when I was hitchiking through Europe as a broke  student, sleeping in ditches and youth hostels!! 
Au Lapin Agile                                                                                               Monmartre 
"What?  We missed him?…….Picasso??!!"
(Loved the outfit, gloves, glasses and cool, casual pose. Right off the cover of a fashion magazine! Hey, at least one of us knew how to dress in "La Ville Lumiere"!)
Pilgrimage walk to Jim Morrison's grave, Pere Lachaise Cemetery, Paris
"C'om on Baby, light my fire!
Girl we couldn't get much higher!"   The Doors
     (The graffiti would get much worse the closer we got. I recall her utter devastation at the sight of the hippy desecration around Jim's tomb. Horrified and shocked, she stopped 30 yards short of the final destination. I could coax her no closer, the air thick with the smell of marijuana! Such was her sense of respect and decorum.  She'd have no part of it.  I think Jim would have approved. The daughter of a prairie preacher, her high standards were innate!)
 Evelyn and Mom, Hiking the South Downs.
    "Don't mind the "Bull in the Field" sign!  I think we can make it if we walk fast enough!" 
     What the HELL was I thinking??  Putting  the two most important people in my life at such risk!!
    Stout hikers, Ev and Mom formed a natural bond. Decades of difference in age, both women would be called home but three days apart.
I live in hope that they are united once again!
Jousting Festival, Hever Castle, Kent
Transported in time back to Merry England!
Hever Castle, Kent
Two courtly ladies outclassing Anne Boleyn in her own backyard!!
"Sorry Anne!  Nothing to lose your head about!"
Checking out Irish accommodations.
"AirBnB  said what??…….Fresh air experience!!??"  
    At another remote B&B on the west coast of Ireland, Evelyn graciously declined the offer to sleep in a bed once used by Julia Roberts on the lam from Kiefer Sutherland……and offered it to me! Generous to a fault!!
(Not much of a gift as it turned out! I was so eroticised I didn't sleep a wink!)
Ashford Castle Hotel, County Galway.
"Now that's better!!  Well done you"!!
    Here I was served the finest slice of wild salmon I ever tasted.
Then again, maybe it was just the company!
Hiking in Van Gogh's English footsteps, Welwyn, Hertfordshire
"But I could have told you Vincent,
This world was never meant for one as beautiful as you!!"
"Starry Night",  Don Mclean
     (Fashion notes:  I carved Ev's hiking stick, her "bâton du pèlerin",  from a maple sapling. It remains one of my prized possessions. The boots, "Big Johns",  my personal cast offs but which fit Ev perfectly,  were made in my hometown  shoe factory where my mother once worked as a teenager! )
George Bernard Shaw Residence, Shaw Corner, Ayot St. Lawrence
Note from GBS to Winston Churchill:
"I have enclosed two tickets for the first night of my new play. One for you and one for a friend...if you have one."
Reply from Churchill:
"Can't possibly attend first night. Will attend second…….if there is one!"
OH, TO HAVE LIVED IN A WITTIER AGE!!
The Chequers
Checkmate!!
    Our English hikes were often punctuated by stops at rustic rural pubs for light refreshment.
Boris Becker Disputes a Call
     Evelyn had a special talent for organization.  Tickets for Phantom of the Opera,  or Buddy (where we danced in the aisles) or Les Mis (where we danced on the stage) or dinner reservations for Langan's or Rules. She could do it all. 
   I'll never forget sitting directly in front of Ron Wood of the Rolling Stones and watching Peter O'Toole give his final performance on the London stage. 
    How she got us front row tickets to Wimbledon Centre Court I'll never know!   "You go girl!  Well done you!"
     And thanks once again for patiently feigning interest while actress Beryl Reid filled me in on the minutiae of family history. Reids at Culloden!!….who knew??
New Delhi Digs
     Ev's postings with the Canadian Department of External Affairs included Washington, Ottawa, London, New Delhi and Budapest.  A consummate professional, she was highly respected by all her colleagues throughout her career. Her New Delhi lodgings came with 24 hour security.
The Taj Mahal never looked better!
Stunning architecture!!
Lending class to Fatephur Sikri, ancient capital of the Mughal Empire. 
Evelyn would have stood out in any harem!!
Casual stop along the Grand Trunk Road, India. 
    Evelyn is swamped by young admirers who were fascinated by her natural  good looks, easy going nature,  fair skin and gorgeous dark blond hair. 
"An alien goddess has landed amongst us!!"  
Scottish Road Trip
     Little did I know that these hikes and  historical explorations would be our last.  I had been to Scotland many times before and wanted to show her around.  We spent most of our time on magical, mystical Skye in the northwest highlands after making a mandatory diversion to visit Culloden. 
Culloden Cottage
     Culloden Cottage was used as a makeshift nursing station during the Battle of Culloden, 1746, Britain's last major land battle.  My direct ancestor, Francis Reid and his brother William were included by the great "Glenbucket" of legendary Jacobite fame among his 11 Tacksmen who were sworn to order in the historic Peace Bond of 1699.  No doubt Glenbucket signed with  fingers of  one hand crossed behind his back, all too aware of the horrific penalty paid by the MacDonalds of Glencoe for their late declaration but 6 years earlier. For the moment, the Highlanders  were keeping their heads down and their powder dry.
    Glenbucket and his men were "out" in both the '15 and '45 rebellions when all hell broke loose. At Culloden on that fateful day,  about 200 Glenbucket men had pride of place to the left of Lord Lewis in the highland line before getting blown to bits by Col. Belford's excellent cannon.  No doubt this hallowed field contains many bits and pieces of my family's DNA. 
   Of all the Jacobites who survived Culloden, perhaps the most famous is Simon Fraser of Lovat. Born in 1726 the son of one of Scotland's most infamous Jacobite nobles, he led his clansmen at Culloden in support of Charles Stuart. The Lovat Frasers are estimated to have lost about 250 clansmen that same day.
The Glencoe Massacre
     Hiking up to the MacDonald's hidden "Vale of Capture," last refuge of  the  desperate survivors of the Glencoe massacre, 13 February 1692.
"Let it be secret…. and sudden!"   
    The Glencoe Massacre would rip apart Highland solidarity and leave the feudal society highly vulnerable to all the coming shocks of  modernity in the 18th and 19th centuries.  It is the key to understanding Scottish history  of the last several centuries. 
Half Way Point
   Deep caves line the sides of the steep trail.  How the MacDonalds could push cattle up here is beyond belief.
   No doubt theses caves provided shelter to the fleeing massacre victims in the midst of a blinding snow storm as they were pursued from behind.  
    Despite the strain of the exertion, Evelyn held up well!
"We'll make a mountain lassie out of this prairie girl yet!!"
Waterfall Rest Stop
"I will build my love  a bower,
By yon clear, crystal fountain.
And round it I will pile,
All the flowers of the mountain."
Wild Mountain Thyme
Success!! We reach the path's summit!
    The Glencoe valley floor is far below as Evelyn takes it all in…..the magic, the mystery…the history!
   We had the Vale all to ourselves. It was like being transported a couple of centuries into the past! 
Vale of Capture, Glencoe
    This hidden highland pasture in the sky has only one narrow point of ingress/egress. Perfect for hiding and grazing stolen cattle.  The isolation and desolation reminded me of some of my hikes on Greenland.
Animal lover, Loch Awe
    Evelyn makes friends with a Shetland pony.
"All creatures great and small" 
Animal Attraction
    And if you thought Ev was going to let a mere fence come between herself and her new found friends, you'd be wrong!!
ON THE ROAD TO THE ISLES, CASTLE STALKER
    Evelyn patiently endured our frequent stops and allowed me to indulge my passion for  photographing  crumbling old castles.
The Silver Sands of Morar
    We stopped to stretch our legs on Morar's famous beach, which I had visited and crudely sketched years earlier. From here it's but a hop skip and a jump to Mallaig and the Skye boat ferry. The blue islands of Eigg and Rhum are in sight!
"Bring on the Cuillins!"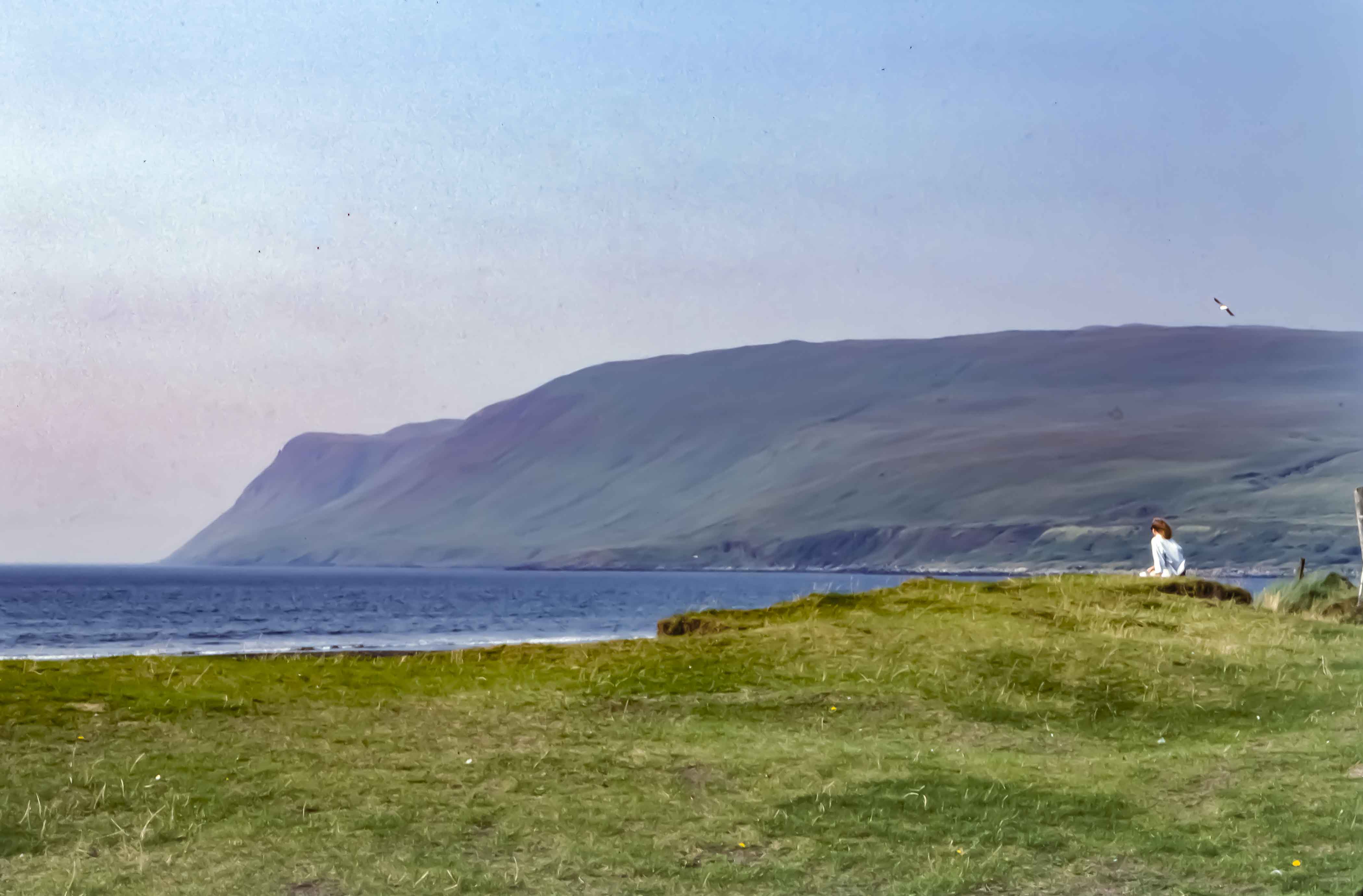 Nous y sommes!  Evelyn relaxes on a remote beach,  Isle of Skye
    Despite the bucolic setting, this outing nearly ended in disaster. We hiked out to a point along a rocky shore line against a vertical cliff. Having no knowledge of the rapidity of the turn of  local tides, it wasn't until it was almost too late to retreat. Hopping and skipping on the slippery and rapidly disappearing rocks, we barely made it back to the safety of the shore, sodden, bedraggled and exhausted. We narrowly avoided being swept out to sea. It was a close call!! 
    Could this have been the point from which Flora MacDonald help spirit the Bonnie Prince back to France? If so, the Jacobite rebellion had nearly claimed two more victims. 
     Nevertheless it taught us an important lesson. Skye held many secret and hidden dangers!!
Deep in the Cuillins, mountain tarn, Isle of Skye
"Oh, the far Cuillins are puttin' love on me"
(Road to the Isles, https://www.youtube.com/watch?v=CV5mh4SbjWs))
     (Ev's fellow Saskatchewanian, Bill Millin, was personal piper to Simon Fraser, Lord Lovat in WWII.  Lord Lovat learned first hand  the lessons of the disasterous Canadian debacle at Dieppe. On D-Day,  now Brigadier Lord Lovat, in defiance of "English" orders, had  piper Bill proudly march up and down Sword Beach, oblivious to the carnage all about him, playing this and other highland tunes to encourage his fellow Jocks to fight on to victory. Prairie born are built tough!  Ev was no exception!!)
(Another Simon Fraser would be born 30 years after Culloden of a woman who shared Evelyn's family name. He would become one of  western Canada's greatest explorers with a river and a university named after him. He lies buried but 50 miles from where I presently sit!)
("Ev, I thought I just distinctly told you NOT to touch the stones!!!")
Sheep dog trials, Isle of Skye
    Not a tourist in sight as we crash a remote sheep dog trial.  The rustic and ruddy faced locals were a bit overawed by Evelyn's  presence (far right) and grant her pride of place in the impromptu food line. Good to see that highland hospitality towards the outlander still survives!!
(The chopped liver on the grill???  Ah, that would be me!)
Contemplation, Isle of Skye
     I never saw Evelyn  more relaxed and contented than on Skye. It was a marvelous holiday exploring all the island's nooks and crannies. Skye had worked its magic on both of us.  
( Pace Jim Croce, "If I could put time in a bottle!")
"Sing me a song of a lass that is gone,
Say, could that lass be I?"
Merry of soul, she sailed on a day
Over the sea, …… to Skye!"
Willow and breeze, islands and seas,
Mountains of rain and sun,
All that was good, all that was fair,
All that was me is…. GONE."
(Skye Boat song, Outlander version,(https://www.youtube.com/watch?v=JGLwdcR1yRU)
Going, going, GONE!!
  Evelyn hears the Call,  takes the High Road and vanishes into the distance. 
GONE!
 BUT NOT FORGOTTEN!!
"Will ye go, lassie, go??
 And we'll all go together.
To pluck wild mountain thyme,
All around the blooming heather.
Will ye go, lassie, go??"
(Will Ye Go? ("https://www.youtube.com/watch?v=w97uEToBzJ4)
WILD MOUNTAIN THYME,Traditional Celtic Song
FAREWELL TO EVELYN
Thanks for the fantastic memories Ev!!
Your aversion to my "stuffy" Oxbridge club is hereby forever forgiven!!
You go girl!  For Heaven's sake, don't look back!!  Always out in front, no holding you back!!
Safe travels as you blaze the path! 
Head North by Northwest…… it's where we had it  best!
Remember to seek "the heather tracks wi' heaven in their wiles."
Mark the trail clear and bright so that we might follow on that dark night!
I pray for your peace at journey's end.  Say hello to Mom!
Jusqu'à ce que nous reprenions notre bâton du pèlerin 
…………encore une fois!!!
AVE ATQUE VALE!!
EPILOGUE:
 Outlander Claire Randall: "She came back to the stones??"
Jamie Fraser, Clan Lovat Fraser Tacksman who will die at Culloden:
"Aye."
"She did!"
"THEY ALWAYS DO!!"